In-Office Balloon Sinuplasty for Chronic Sinusitis in Coos Bay, Oregon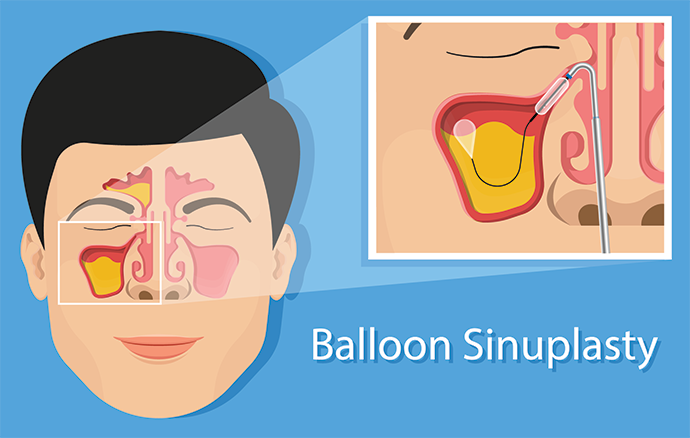 Balloon Sinuplasty is a minimally invasive procedure performed by experienced ear, nose and throat specialist Dr. W. Wallace Webster in our Coos Bay, Oregon office under local anesthesia.
This breakthrough in-office treatment for chronic sinusitis, which requires minimal recovery time, has resulted in consistently positive results for many patients. Balloon sinuplasty is a welcome advance and alternative to more invasive surgeries that require general anesthesia and a longer recovery period. What's more, most health insurance companies will cover all or part of the cost of balloon sinuplasty under most circumstances.
What is Balloon Sinuplasty?
During this procedure, a small balloon is inserted into your sinuses and is then inflated to dilate (widen) the openings of your nasal sinuses. Saline spray is then used to "flush out" the sinuses so they can be drained and cleared of any mucus, pus or discharge that is causing congestion. The purpose of this procedure is to restore proper drainage without tissue removal, bleeding or pain.
Step 1. A balloon catheter is inserted into the inflamed sinus.
Step 2. The balloon is inflated to expand the sinus opening.
Step 3. Saline is sprayed into the inflamed sinus to flush out the pus and mucus.
Step 4. The system is removed, leaving the sinuses open.
Balloon Sinuplasty Benefits
Comfortable Setting
This in-office procedure is convenient and in the comfort of our doctor's office rather than a hospital operating room.
Local Anesthesia
In-office Balloon Sinuplasty is an option for patients who decline or are ineligible for general anesthesia.
Quick Recovery
Most patients who have the BSP procedure can return to normal activities and work within 24 hours.
Patient Satisfaction
The majority of patients who have had this minimally invasive treatment experience instant relief and would recommend the procedure to friends and family.
Don't Continue to Suffer with Chronic Sinus Infections and Pain
Balloon sinuplasty has proven to be effective for hundreds of thousands of patients since its introduction. Don't continue suffering another day. Call our office today at 541-808-3860 to schedule a Consultation and Exam appointment with Dr. Webster to find out if you are a candidate for balloon sinuplasty.